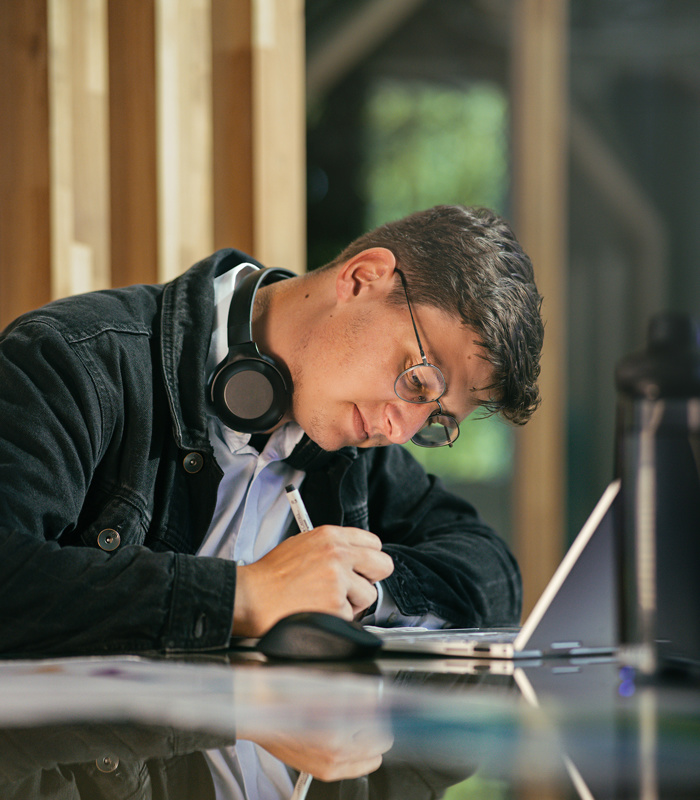 Registration via Studylink
Once you have registered
Studielink will send your details to HAS green academy automatically.

The International Office of HAS green academy processes the applications of all students with a non-Dutch diploma. 

During the applications process, you will need to upload several documents to enable the International Office to assess your application.

In the menu on the right, you will find all the steps in the application process for students with a non-Dutch diploma, who want to apply to one of the English-taught programmes at HAS green academy. Step 5 includes a list of the documents you will need to provide.
 
Registration for study programmes in Dutch
If you want to register for a Dutch-taught study programme, you will find details of what you need to do on the Dutch version of the HAS green academy website. 

If you have a Dutch diploma (or will obtain your Dutch diploma this school year) you should visit the Dutch version of our website for further details of the application process.
Useful checklist
Step 0 – Apply before 1 May

You can register via Studielink. You must complete your application before the 1st of May, in order to have admission right (if you meet the admission requirements).
Step 1 – Check the admission requirements for your chosen study programme

You will find the admission requirements for the bachelor's study programmes on the Admission requirements pages below.

Check the information in the Nuffic Country Modules to see how your diploma is evaluated in the Netherlands. If you believe you will meet the admission requirements, please proceed to step 2.
Step 2 – Create a Studielink account

You can set up a Studielink account via www.studielink.nl and log in directly. 
NOTE:
If you are a Dutch citizen or have a Dutch Citizen Service Number (BSN), use your DigiD code to log in. 

If you are a Dutch citizen or have a Dutch BSN and do not yet have a DigiD, you should apply for one here. You will find your BSN on your passport or Dutch ID card.

When using Studielink for the first time, we recommend you look at the Studielink Help section.
Step 3 – Register via Studielink!

Once you have chosen your study programme and have set up your Studielink account, the next step is to complete your registration via Studielink by filling in your personal data.

The CROHO number (from the Dutch Central Registry of Higher Education Programmes) for your chosen study programme.

Below you can find the CROHO numbers of the study programmes of the English-Taught programmes offered by HAS green academy.

| Degree programme | Location | CROHO number |
| --- | --- | --- |
|   |   |   |
| Horticulture & Business Management | 's-Hertogenbosch | 34868 |
| International Food & Agribusiness | 's-Hertogenbosch | 39281 |
Step 4 – Do the study choice check

Once you have submitted your registration request we will send you an invitation for a study choice check. The check is a mandatory part of the enrollment. 
Step 5 – Upload required documents

We will send you an email containing a personal link taking you to a web-based application with instructions on how to upload the required documents.
You need to upload the following documents within 4 weeks after your registration in Studielink but no later than the 1st of June:
(If you apply after 1 May, you need to send us all required documents within 72 hours after registration)

A recent passport photo in colour 1
A copy of your valid passport or ID card (front and back)
A copy of your Dutch residence permit (if applicable)
Your curriculum vitae
A copy of your list of marks 2
A certified copy of your secondary school diploma or other prior education diploma or certificate 3
Your IELTS/ TOEFL / Cambridge ESOL test results 4

1. Scanned as separate .jpg file, 3x4 cm, 200x300 pixels, max. 50 mb, 200 DPI. We cannot use a photo in pdf file.
2. If you have not yet graduated, you need to upload a list of marks including your results so far.
3. The certified copy of your secondary school diploma is required, but may be uploaded later if you have not yet graduated. Deadline: Before 15 August. Important: please specify the exact name of your diploma in the title of the scanned document.
4. The test result is required, but may be uploaded later if you have not yet obtained it. Deadline: Before 1 July. Important: This is not applicable if you have completed your entire prior education in English or if you have obtained a diploma of secondary education that is listed on the Diploma List.
Step 6 – Once you are admitted: payment of tuition fees

Before you can start your study programme at HAS green academy, you will need to pay your tuition fees.

If you are an EU student you can submit an authorisation for direct debit via Studielink from 1 June. You need to set up the Direct Debit before 1 July.
If you are a non-EU student you will receive an invoice by email together with your (provisional) admission letter.


You can find more information about tuition fees and other costs, as well as information on payment details on our Payment of tuition fees page.
Step 7 – Practical preparations

Once you are admitted you can start your practical preparations, for instance:

Looking for a place to stay. More information can be found on our Accommodation Service page.
Preparing the documents for your visa application (if applicable). More information can be found on our Immigration formalities page.


Note: The International Office will contact you before the summer holidays with up-to-date practical information on: 
Any questions?
You will find more practical information about all the necessary preparations in the Studying at HAS section of our website, or on our Frequently Asked Questions page. 
For further information regarding the different study programmes, see the study programme web page, or send an email to the study advisor of the programme you are interested in. You will find their contact details here. 

If you have any further questions related to the application process or on any other practical matters, please contact the International Office. 

My application has been refused, but I want to appeal
If you disagree with the rejection of your registration request, you can send an appeal to the Examinations Appeal Board within 6 weeks of the date of the notification. To request details of the appeals procedure, send an email to studentzaken@has.nl.
International Office

For questions about the application procedure

Department Student Affairs

For questions related to the application process and appeal procedure